Vintage Miser Purse found at studioantiques.com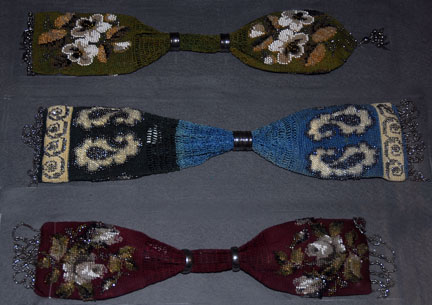 Miser Purses from Dresden found at TapestryCrochet.com
Lately I have been intrigued by Miser Purses. I think the fascination started with a fable that mentioned a purse and of course I had to find out more.
Miser's Purses (also known as a wallet or stocking purse)were made in the early 1800s. They were a fashionable style for both men and women, and would have been based on a pattern found in popular women's magazines and knitting books.
Ravelry.com has a
pattern for a knitted version of a miser's purse
.
This free pattern is at
knit wiki
.



The Design
It is called a miser's purse because its long tubular shape with a slit down the center is held tightly by sliding rings (or 'sliders') to keep the coins safe at either end. This meant that it was hard to get the coins out in a hurry - hence the name miser.

Miser's purses were usually weighted at the ends (sometimes with steel bead tassels) to hold the coins in place. In the case of this particular purse, one end has been rounded with a single trimming while the other end has squared corners and two trimmings. This meant that coins of different denominations could be kept in either end, making it easier in a dark carriage to find the correct fare to pay the driver by feeling the difference in trimmings.

Women carried miser's purses held in the middle, letting them fall elegantly over the hand or from their belts. Men carried them in their pockets.

Significance
Thousands of women made purses such as these for personal use or as gifts or novelties - sometimes donating them to fundraising causes
info found here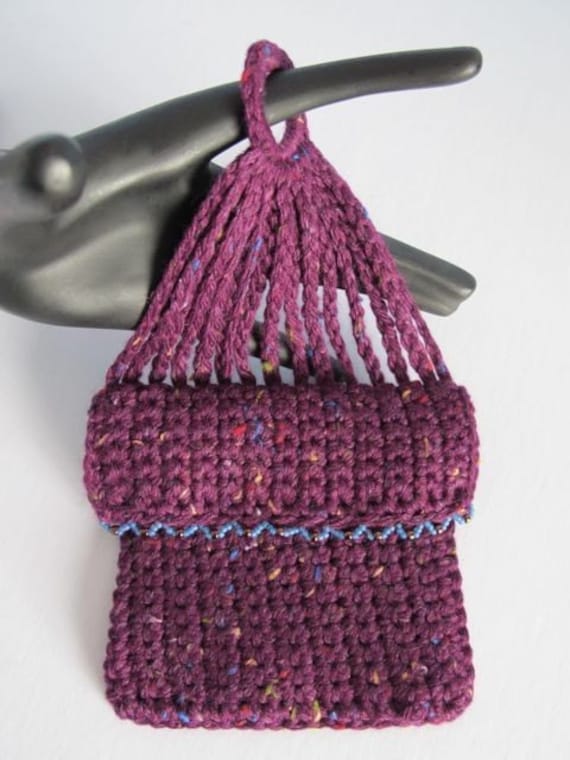 Crocheted one-sided Miser Purse by Wind Rose Fiber Studio
Wind Rose Fiber Studio has a (one-sided)
Tasseled Miser Purse Crochet-along
At Victorian Embroidery and Crafts there's a pattern for a very decorative
One-sided Crocheted Miser Purse
This video explains how the one-sided Miser's Purse works. I had wondered !
More General Information:
Miser purses
— also called long purses, stocking purses, or ring purses — were popular in England and France from the mid-18th century through the early 20th century. Their fast and easy construction meant that they were made in the thousands, and are therefore easily available to collectors. (If you do decide to collect them them, however, beware that because of their long popularity, it is sometimes difficult to tell if one was made in 1800 or 1900.)
A miser purse has a long, narrow, tubular shape with a slit left open in the middle. The purse was pulled through two metal rings, called sliders. Both rings are slid to one side, coins are inserted through the opening into the other end of the tube, then one of the rings is slid tight against the end to secure the coins inside. Coins would be inserted into both ends in this way. The rings ensure that coins cannot escape through the central slit.
Some scholars believe the design of the purse was a revival of the Medieval practice of carrying one's coins in the toe of a stocking. A similar tube-shaped purse fastened with rings at each end had been popular with men during the 16th century. It is not entirely clear how the nickname "miser purse" came about. One theory is that they were so called because they were made to disgorge a single coin or just a few coins at a time, or because the design ensured that coins were secure and difficult to lose.
The miser purse was carried by both men and women. In the 18th century, men sometimes wore them hidden inside a sleeve, which is another possible source of the name "miser purse." They also thrust them into pockets, as did ladies. Later, when the waistlines of dresses crept back down to the natural waist, miser purses were sometimes worn folded over a lady's belt.
The purse was either knitted, netted, knotted, or crocheted, using silk, cotton, wool, and sometimes metallic thread. They were often beaded. The two ends were usually decorated with beads or tassels or fringe. The earlier purses had two identical ends. Victorian purses often have each end decorated differently, so that one could easily tell which type of coin was in each end of the purse. The purses vary in length from as short as 8 inches to as long as 36 inches. The longer sizes were generally seen later, in the mid-19th century.
One of the reasons for the long popularity of the miser purse was that it was fairly easy to make one, and it became fashionable for young ladies to net or knit purses to give as presents, especially to gentlemen. William Cowper wrote a poem to his cousin Anne Bodham "on receiving from her a network purse made by herself." During the mid-19th century through the early 20th century, ladies' magazines often published instructions and patterns for constructing miser purses. Thomas Gardon, a watch chain and purse maker on St James Street, was one of the many vendors who provided all the necessary materials for purse-making. In the first years of the 19th century, he advertised that "Ladies may be accommodated with great choice of Purse-Twist, Tassels, and Sliders."
info found here